Pars Tower Products
Pars tower Industrial Group started its activities in the 2010s with the permission of the Organization of Mines and Industries in the field of telecommunication steel structures and power transmission and is proud to adhere to all national and international standards
limited producer Providers of telecommunication and power transmission towers in the south of the country
which has obtained permission from the Ministry of Industry of the Islamic Republic of Iran to construct
.manufacture and assemble telecommunication and power transmission towers
Radio masts and towers
Radio masts and towers 
Radio masts and towers are, typically, tall structures designed to support antennas for telecommunications and broadcasting, including television. There are two main types: guyed and self-supporting structures. They are among the tallest human-made structures. Masts are often named after the broadcasting organizations that originally built them or currently use them.
Telecommunication towers are produced in a variety of self-support – monopole and guide towers.
Monopole tower
Monopole tower
Monopole tower are monolithic masts. These rigs are made of multi-faceted sections.
This type of rig is mounted on a stand and there is a large anchor at the foot of the rig. The vibration of these masts is greater than that of the other masts. Due to the small space they occupy, these towers are considered and used in urban environments where land is of high value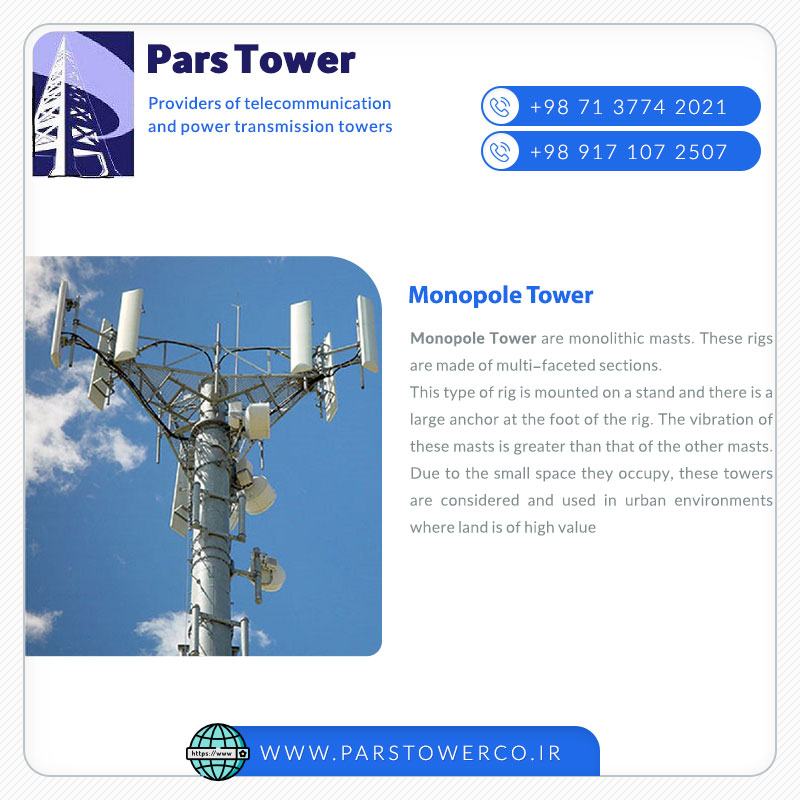 Guyed tower
Guyed tower
guyed tower are those that are restrained by wires to the ground or other support.
This type of rig has the advantage of its light weight and light weight and is used in places where there is sufficient space. It is often used in Internet and wireless networks.
These towers have the capability to be installed on the roofs of homes and offices, in addition to the height of the building, which has helped to elevate the antenna installation location in urban areas.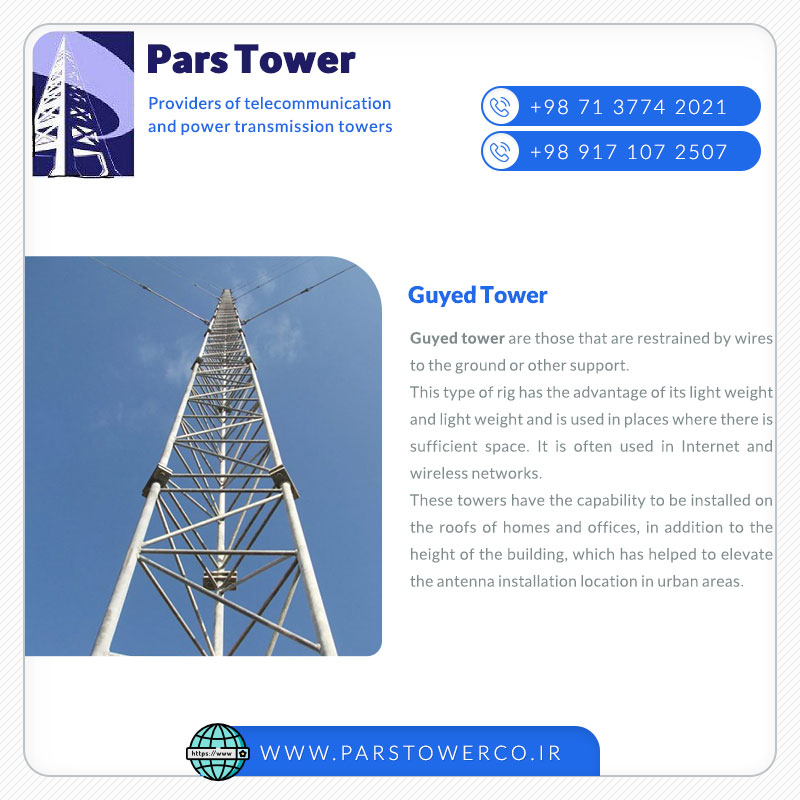 Self supported towers four pod
Self supported towers four pod
Self-supported towers four pod all cornerstoneAll corner stone four pod towers made from cornerstone. Main legs being from cornerstone which depends on the type of designing of tower, used from cornerstone type ST37 or ST 52.The internal parts of these towers include Braces, Horizontals, redundant type of cornerstone. The crossing of these towers had been in the form of square which with increasing length, height, the angle of square gradually and in appropriate with slope defined for all tower have been decreased.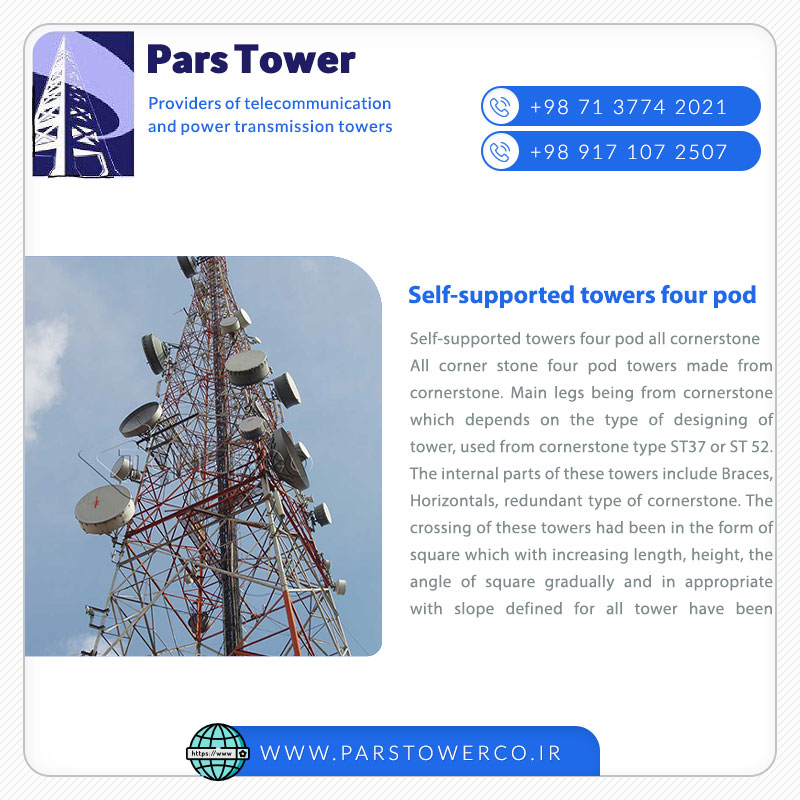 Self support towers of tripod
Self support towers of tripod
Self-support tripod tower are made with tripods. The pedestals are mostly made of pipe and internal members as trusses. Corners are also used in the construction of bases, 60 degree corners, full round bars, bent profiles and more. Internal members are made of corners, pipes, round bars. These types of masts are used for installation of microwave antennas, mobile antennas and wireless.
Camera poles
Camera poles
tower of camera due to different climatic conditions and its application in different places and sometimes according to taste and designed with different models.
1. Mechanized Traffic Control Range Cameras.
2. Traffic recording cameras.
3. Surveillance cameras.
4. Surveillance cameras for enclosed sites.
Depending on customer requirements and different weather conditions, these towers can be made of self-static polystyrene coating or with hot galvanized coating or epoxy paint.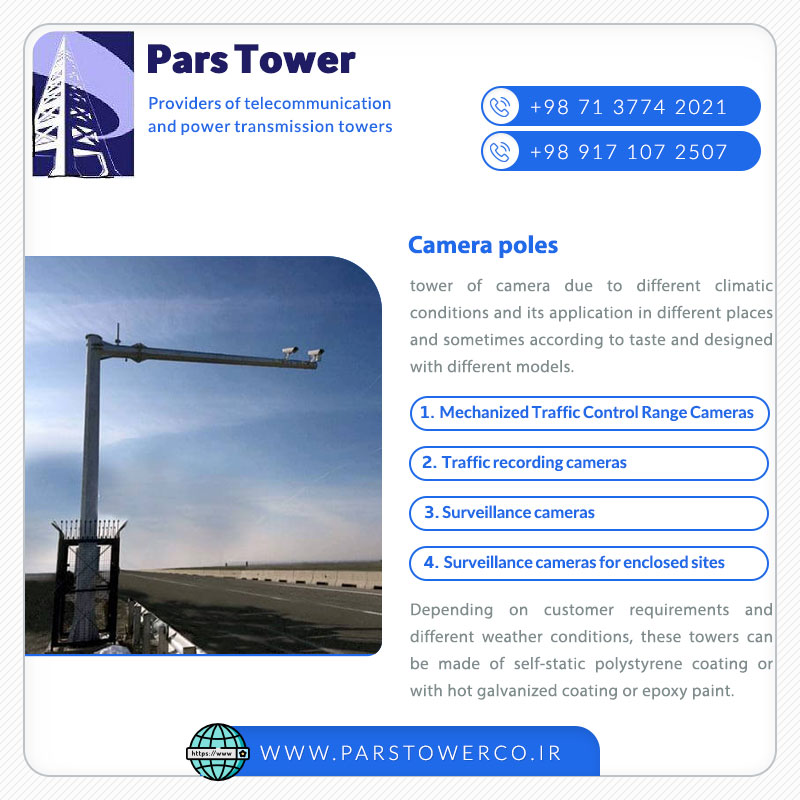 Lightning Pole
Lightning Pole
They are utilized for lightning of alleys, avenues, parks, stadiums. Designing of Lightning pole in every district depending on type, area, environmental using, and sometimes personal taste and they are specified based on these features and have its special approaches.In order to preventing erosion, rusting, towers have galvanized covering are 90 Micron. The epoxy coloring method also used for more beautifulness and coordinating with environmental using of the area of lightening pole, which we could namely as multifaceted, pipe, flinch and overlap.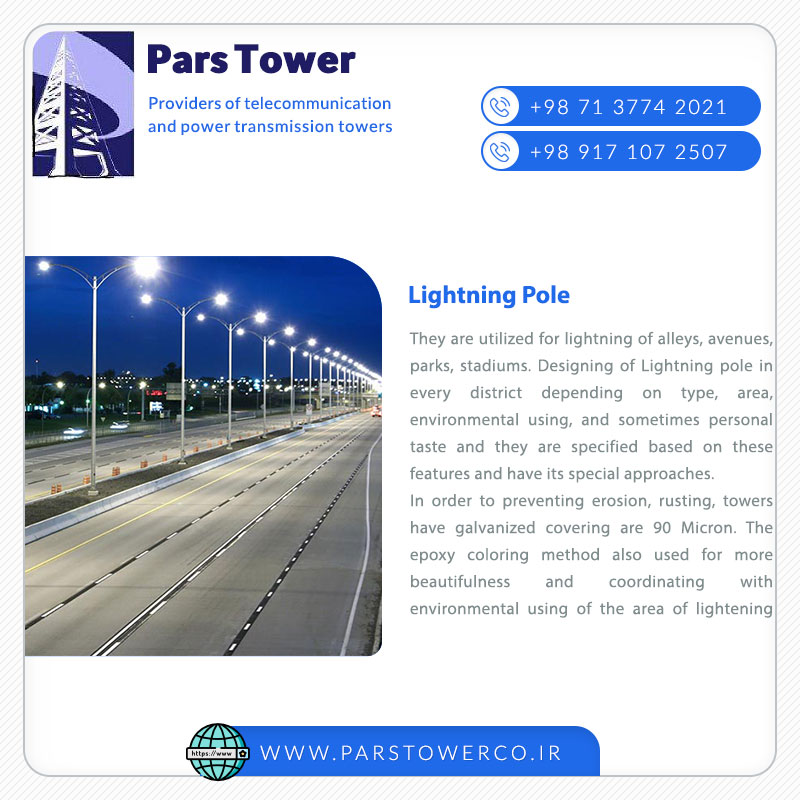 Solar Panel Base or Solar Structure
Solar Panel Base or Solar Structure
The base of the solar panel is the structure on which the solar panels are mounted and exposed to sunlight at a specific angle to the sky. Typically the structure of the solar panel is made of aluminum or iron by the hot-dip galvanizing method.
Structures can generally be divided into three categories:
Fixed structure

Structure for ramp

Angle and height adjustable frame

Smart Structure